Vulnerare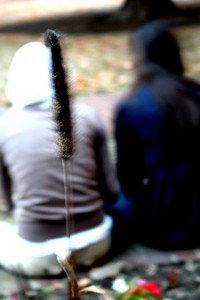 Last Friday, Trent discussed some reflections on vulnerability as inspired by the book, Daring Greatly, that a few of us are reading right now.  I would also like to offer a thought for pondering about vulnerability as something different than weakness.  This is what Brenee has to say:
When discussing vulnerability, it is helpful to look at the definition and etymology of the word vulnerable. According to the Merriam-Webster Dictionary, the word vulnerability is derived from the Latin word vulnerare, meaning "to wound." The definition includes "capable of being wounded" and "open to attack or damage." Merriam-Webster defines weakness as the inability to withstand attack or wounding. Just from a linguistic perspective, it's clear that these are very different concepts  and in fact, one could argue that weakness often stems from a lack of vulnerability–when we don't acknowledge how and where we're tender, we're more at risk, of being hurt.
I find it refreshing and thought-provoking to think of vulnerability in this way.  Typically, I find that most people think of vulnerability as a weakness and therefore, stay away from it in order to appear strong and tough and to survive.  As a therapist, I encounter this a lot with my clients.  After reading how Brenee distinguishes weakness and vulnerability, I would strive to challenge all of us to consider her words.  Vulnerability is not weakness.  In fact, vulnerability can put us in a position of greater understanding and thus, self-empowerment.  To me, it sounds like we have the choice to use our vulnerability to our advantage.
Brenee goes on to discuss how when we engage in vulnerability, we can put a name to what we are trying to avoid or protect.  And while this may feel utterly uncomfortable, it is often the act that can free and empower us.  This really resonates with me and my experience as a human.  In my past, I have experienced some horrific circumstances that I did not discuss with others until I was older.  Over the years that I remained silent, I not only was emotionally and mentally upset, but my body showed physical symptoms of my struggle.  I would every so often get majorly sick and have to seek hospital services to get myself back to health.
When I finally exposed my secret (I could even call it my shame), a huge weight lifted from me.  I gave a name to my inner struggle.  And to do this, I had to became vulnerable.  And would you guess what happened?  My random bouts of unexplained sickness went away right along with the inner turmoil I was facing alone.  To me, this proved the power of vulnerability and the positive and empowering feelings that can surface as a result.
This is why I buy in to the idea of vulnerability as not being the equivalent to weakness.  What about you?  Would you consider this as a possibility?  If so, how do you think vulnerability could empower you specifically in life?
You may be interested in...