Ambition: Friend or Foe?
Yesterday, on my own personal blog, I wrote a post about the intersection of my ambition and fear. I can be a very ambitious person, but I often reach a point in the middle of a project where I think, "Have I gone too far?"
When I first discover the idea for a project – whether it is a home renovation, a sewing or knitting project, a grant proposal,  or a life-changing adventure – I tend to do very little prep work. I think it over, but I often decide that it is a good idea rather quickly. After diving in with my eyes closed, I begin to feel the weight of the project. I begin to question my ability to complete it, and unfortunately, this feeling often arrives once I've reached the point of no return.
My gut reaction is to drop and run. I often think, "Leave this project half finished, that's okay. You tried your best." Or my fear of not being able to complete the project leads me to be impulsive and easily-distracted, causing me to move on to another project before the end of the first.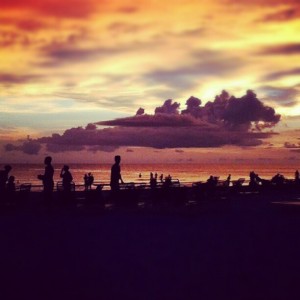 At this stage in the process, I begin to blame my ambition for causing me to jump in without considering the consequences or my abilities. Yet, I recently realized that, without this ambition, I would never attempt anything. If I allowed myself to question all of the possible outcomes before I start a project, I would always back out, stopping before I even started. And how boring is that?
I've decided to stop blaming my blind ambition so that I can focus on working alongside the fear that I'll never finish successfully. It is not an easy process, one that often causes a lot of stress and anxiety. Yet, I have to find a place within myself where I can trust that, regardless of the outcome, I am capable of handling it.
If this project fails tremendously, I will be able to breathe through the regret to find a moment of pride in my efforts.
If this project succeeds fabulously, I will be able to delight in my ability to push through the fear of not succeeding to a place of satisfaction in the outcome.
Ambition and fear both lead to their own struggles, but each has a role to play. I simply need to find my way to work alongside them.
You may be interested in...