22 Kilometers Off the Logging Road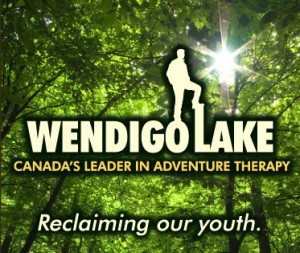 This week I am featuring a special therapy program called Wendigo Lake Expeditions.  Why would I feature this program, you might ask?  Well, I am lucky enough to have just gotten hired as their new therapist!  As a therapist, this is my dream job come true.  Specifically, I am working as a wilderness therapist.  And no, this does not mean I therapize trees and woodland creatures…good try though.
A few of my most favorite researchers define wilderness therapy or adventure therapy as "the prescriptive use of adventure experiences provided by mental health professionals, often conducted in natural settings that kinesthetically engage clients on cognitive, affective, and behavioral levels" (Gass, Gillis, & Russell, 2012).
I define it as the cool type of therapy.
At Wendigo, I specifically am one of two therapists that work within the REACH program, which stands for Responsibility, Effort, Attitude, Community, and Honor.  This program is a residential adventure therapy program for male youth-at-risk ages 13-18 located in South River, Ontario, Canada.  The program provides a coordinated blend of adventure/wilderness programming; engaging classroom experience; and individual, family, and group counselling in a structured, intensive, and individualized program design (taken from a WLE brochure).
I feel that it is a personal responsibility of mine to help get the word out about wilderness/adventure therapy as a viable approach to therapy, especially in the Marriage and Family Therapy (MFT) world.  As an LMFTA, I find the blend of MFT and wilderness/adventure therapy to provide that extra oomph of effectiveness that perhaps more traditional forms of therapy or wilderness experiences alone could provide.
Let me know if you are interested to learn more about wilderness/adventure therapy or about my experience 22 kilometers off the logging road (aka, I work in the middle of nowhere).  I would love to chat with you about this wonderful way of providing therapy and living life!
You may be interested in...