Termination
Termination.  Such a strong, violent-sounding word.  I have noticed in conversations with non-therapists that using this word flippantly can cause one of those head cocked to the side, one eyebrow raised, lips pursed and pulled slightly to the side looks on the other person's face.  I can only imagine that they think my alter-ego is Arnold Schwarzenegger as the Terminator.
I forget that this word, "termination," that we use so often as therapists is not a normal everyday conversation word that you can just throw around without someone finding it slightly terrifying.
Let me explain this word, termination.  You know the phrase, "All good things must come to an end"?  Well, I like to think of therapy as a good thing (warning: not all people may actually think this), and as a good thing, therapy comes to an end.  Whether it is a positive last session filled with closure and accomplishment or the client yells at you and storms out of the office or simply stops showing up to appointments, therapy comes to an end.
In the therapy world, we call this endpoint "termination."  Termination indicates that therapy is coming or has come to a close.  So why is such a harsh word used to indicate this point of the process, you ask?  Honestly, I do not know.  I agree that it sounds like a description of a fight scene from Kill Bill.  They could have at least come up with something more gentle like "graduation" or "conclusion."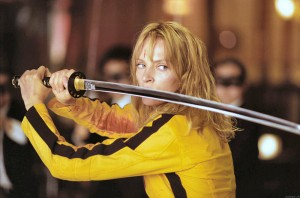 You know what, though?  The termination process can sometimes be one of the hardest parts of therapy.  I once  had a client who at first wanted nothing to do with me (she was court mandated), but after several sessions she formed such a secure bond with me that it was heartbreaking for both of us to think of therapy ending.
This client went from stone-cold silence to eventually revealing her inner most hurts surrounding her broken relationship with her mom.  This client went from arms crossed to initiating a gentle hug after each session.  So, to terminate with this client was almost like what it feels like to break up with someone but not wanting to.
Actually, it is kind of a weird process if you think about it.  You form a bond and trust with someone, tell them your secrets, show lots of vulnerability, and then you stop seeing them and move on, and not because something went wrong, but because something went right.  Improvement was made.  If we did not know we were talking about therapy right now then this would sound really messed up.
Termination is a part of therapy, whether it is planned or not.  It can be something that happens when a client stops showing up without explanation or it can happen because a client has achieved his or her goal.  Sometimes termination is an easy transition and sometimes it can feel heartbreaking.  You know, based on my example above, perhaps the word, "termination," is not so far off-base after all.  Food for thought.
You may be interested in...