Thanksgiving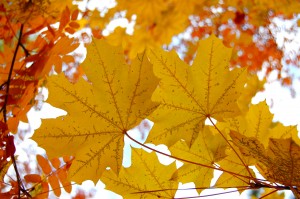 Last week was Thanksgiving. A day on which we gathered with our families to  give thanks for yet another year together.
This November, I noticed something on Facebook that I have not noticed in years past (I'm sure that I was just oblivious and that this is not new). Many of my Facebook friends took the time to post a status update each day stating what they were thankful for. Sometimes these status updates related to something simple like a cancelled class. Other times, though, these status updates were a truly heartwarming message.
The messages that stuck out to me the most were those that acknowledged not something but someone. I think that we take our loved ones for granted all too often. We assume that they will always be there. Perhaps worse is the assumption that our loved ones know just how much we appreciate, love, and need them in our lives. I touched a little bit on this when I wrote a post about belonging.
What I am getting at today, however, is that we can never say thank you too many times. Try it out today with someone that you love and appreciate. It does not require very much energy or skill. All you need to do is to look at them and say something along the lines of…
"Thank you for all that you do. It means so much to me. I don't tell you how much I appreciate you as often as I should."
I think that you may be surprised at how much this may mean to your loved ones. We live in a world in which the small stuff is often taken for granted or goes unnoticed…mostly in our relationships. Don't be bashful about thanking your partner for folding the laundry, taking out the trash, making you dinner on a really busy night, etc. It is the simple "thank you" that can take a relationship to new places. After all, it feels good to be appreciated.
You may be interested in...