Something to Live By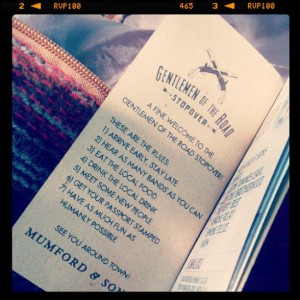 Remember the Mumford & Sons concert I told you about a few posts ago?  Well, this picture you see is from that show.  This picture is of my ticket or what the tour called my "passport."  It is a pretty sweet concert ticket.  Probably the best I have ever seen.  Anyway, my "passport" had a lot of fun things in it other than just my entry ticket (making it even more awesome).  As you can see in the picture, it included a list of very important rules to abide by while at the show.
Arrive early, stay late
Hear as many bands as you can
Eat the local food
Drink the local drink
Meet some new people
Get your passport stamped
Have as much fun as humanly possible
You know, I think maybe these rules are something I would like to live by outside of this Gentlemen of the Road venue.
Arriving early is something I still need to work on, but I usually enjoy staying late at an event or gathering, especially with friends; sometimes that is when that extra bit of bonding happens.
Hearing as many bands as I can is something I am pretty good at.  But to me, this says more than just going to see Glen Hansard up in Cinci on a whim.  To me this means taking advantage of the opportunities right there in front of you.  Instead of napping on the couch for the third evening in a row, brew up the coffee, turn up the music, and go out with your friends for some much needed laughter and love.
Eat the local food, drink the local drink.  I love exploring far and wide, but there are also so many special places to explore just blocks from my own apartment.  There is nothing like taking a walk through historical downtown streets and discovering a tiny little local restaurant, a cozy book store, or a unique boutique that can only be found in your neck of the woods.
Meeting new people is not always easy, but when it happens, it can be such a fun and refreshing experience.  Sometimes these people end up just being stories you have fun entertaining others with later, and sometimes these people turn out to be some of your dearest friends.
Get your passport stamped.  I yearn for the day to get my passport stamped again!  Because that will mean somehow, some way I have found my way across the world surfing in Australia, experiencing the German culture, or taking a gondola ride through Italy.  I love traveling and plan to do it for the rest of my life.
And in everything I do, I want to find the fun.  I want to find the joy in all the big, the little, and even the not so great things.
Let's be honest, I do not always live up to these rules, and that is okay.  But I know that this list of rules will always be in my back pocket encouraging and inspiring me.
Everyone is different and has their own set of rules.  I am curious…what rules do you live by?
You may be interested in...