The Poppy Red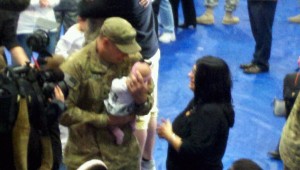 "We cherish too, the Poppy red
That grows on fields where valor led,
It seems to signal to the skies
That blood of heroes never dies."
– In Flander Fields by Moina Michael (1915)
Today is Memorial Day, a day set aside to remember the sacrifices service members made and still make for us…for our freedom and peace.  I know I often take for granted the freedoms I have as an American citizen.  I am grateful for the reminders I am given to spend time reflecting on the freedom I get to live in because of the sacrifices others have made to maintain that freedom.
More recently in life, I am reminded of this thought from a different perspective.  For a little over a year, I have had the honor to work in a field that gives back to the service members that serve our country.  Within the University of Kentucky Family and Consumer Sciences Extension, I coordinate high adventure camps for military families.  These free camps were created to give military families an avenue for reconnection after experiencing deployment.
Through my work, I have learned that it is not just the service members that make sacrifices, but it is also the spouses, mothers, fathers, siblings, and children that make a different kind of sacrifice in order to support and empower their service members to serve our country.
The rewarding part of my job is that I get to help reward our military families for the sacrifices they make.  At the end of a camp during a debrief, I get to hear a dad and teenage daughter share with each other how much they love and appreciate one another.  I get to hear about how this camp was the most time the service member mom has been able to spend with her son in a long time because of deployment.  I even have had the chance to witness a homecoming ceremony where a service member met his baby girl for the first time (pictured above).
So, as I reflect on all of this, I am not only grateful for the sacrifices our military families have made for us, but also for the chance to participate in giving back to these families.
In December 2000, the National Moment of Remembrance was passed to encourage all Americans to observe a moment of silence at 3:00pm local time to remember and respect the sacrifices our service members have made for our country.
On this Memorial Day, I encourage you to not only remember the sacrifices of the service members, but also the sacrifices of the military spouses, mothers, fathers, siblings, and especially the children.  May you be blessed in your sacrifice.
You may be interested in...