We accept the love we think we deserve…
We accept the love we think we deserve.
I heard these words this past weekend. When I heard these words, they took my breath away and I found myself experiencing an overwhelming rush of emotion.
I simultaneously felt both sad and overjoyed. I felt sad because I realized that I have accepted a not-so-great kind of love at more than one time in my life. The not-so-great kind of love is the love that leaves you tip-toeing on eggshells out of an attempt to make it work. This love makes you question yourself…everything that you say and everything that you do. It leaves you questioning who you are.
I also felt overjoyed. I felt overjoyed because I have accepted a deep kind of love. The deep kind of love, to state it simply, is the love that makes you feel good about yourself…to the core of your being. This is the kind of love that does not have any conditions. You do not have to look, act, feel, or speak a certain way. You just get to be who you are.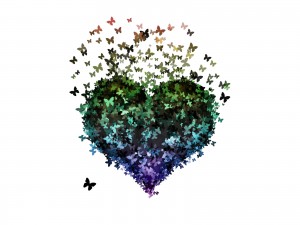 So, why does this divide exist? Why do we sometimes accept the not-so-great kind of love when what we really want is the deep love?
I think the answer is truly that we accept the love that we think we deserve. If we value ourselves and know that we have a lot to offer someone, we will wait for the deep love. If we are unsure of our worth, we will settle for the not-so-great kind of love.
We frequently use the word "journey" on our blog. I believe that I can speak for all of us when I say that this is deliberate. So many things in our lives can best be described as a journey. Including the journey that allows us to get to a place where we are willing to wait for the deep love. And…even when we get to that place…it takes a lot of work to stay there because we are human and we are always learning more about ourselves and the world around us.
I have seen this struggle in my own life and in the lives of my clients, friends, and family. It is real. But it is something that we can and need to deal with. We are all worthy of the deep love…no matter who we have been, our shortcomings, or the voice in our the back of our heads telling us that we are not worthy as we are right now. 

You may be interested in...